Year round first floor roof
Terrace
From bright and cheerful roof garden to snug and sheltered winter wonderland, our terrace is the place to be come rain or shine. In the summer, the terrace comes alive with flourishing plants, perfumed flowers and fruity cocktails atop every table and from November to March, is reimagined as a warm and cosy escape for indulgence and relaxation, protected by our stretch tent.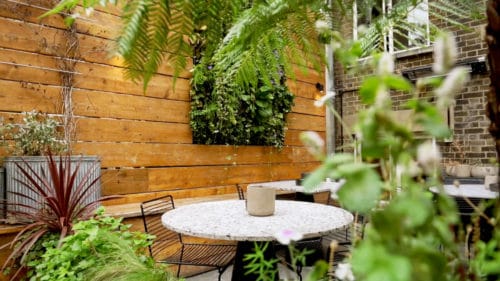 Summer space
During the glorious, warmer months, our roof terrace becomes a lush green sun-trap, perfect for bathing in the light with a cocktail or enjoying the buzz of a warm summer evening. With planters bursting with palms, ferns, plants and flowers, our gorgeous, verdant green wall and fragrant tabletop herb pots, it's the ideal space to escape the city and enjoy the summer in a sea of green.
Winter terrace
As the cold sets in, our winter terrace transforms into a cosy, teepee den, warmed up with outdoor heaters and decorated with luxurious sheepskins and cosy blankets to wrap up in. A charming tent is draped overhead and adorned with glistening fairy lights to create a beautifully atmospheric and homely hideout. Candles top the tables, adding warmth and natural light, and all that's left is to grab a warming cocktail or festive mulled wine and snuggle in.